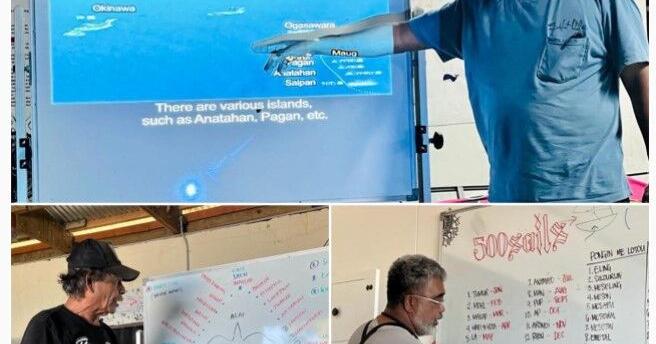 500 Sails brings traditional sailing to the community | Way of life
500 Sails is pleased to announce an open call for aspiring cultural practitioners who wish to learn the art of traditional sailing.
As part of the traditional sailing route of the Maritime Training Cultural Center, master navigators Mario Benito, Antonio Piailug and Cecilio Raikiulipiy will share their knowledge and sacred stories.
The track launched its first trial sessions in March with 11 students enrolled and will continue throughout the year.
Community members who wish to participate are invited to attend a Meet & Greet with master navigator Raikiulipiy, who has graciously opened up places for new students, in addition to his own class. He will conduct interviews for those who are serious about spending their time learning the fundamentals of traditional boating under his guidance. Currently classes are closed for master sailors Benito and Piailug.
Navigation is an ancient art form that involves memorizing the names of important stars in the sky, understanding and predicting weather and swell conditions, knowing all phases of the moon and tides, and the physical and spiritual preparation needed to go on the open sea. travel, to name just a few of the topics covered.
Saipan is very lucky to be the home of three sailors who have the passion and drive to teach what they know to future generations.
Interested persons can meet at the 500 Sails shipyard in the lower base/Tanapag village at 5:30 p.m. on Tuesday, May 24, 2022. Space in the class is limited and students will be selected at the discretion of the sailor, as well as their ability to take time out of their schedule to attend these sessions afterwards.
The Cultural Maritime Training Center is made possible by support from the Administration for Children and Families, a division of the U.S. Department of Health and Human Services, through a grant from the Administration for Native Americans Social & Economic Development Strategies .
500 Sails is a 501(c)3 and CNMI tax-exempt nonprofit organization dedicated to reviving, promoting, and preserving the maritime cultural traditions of the Mariana Islands through community engagement in the values ​​and values canoeing cultural activities. The vision of 500 Sails is a healthy and thriving Aboriginal community that has successfully integrated traditional cultural values ​​into modern life. Key supporting partners include CNMI's Office of Indigenous Affairs, IT&E and Chamolinian Cultural Village Inc. – Canoe Federation.
For more program information, please call 670-323-7245 (SAIL), email [email protected], or follow 500 Sails on Facebook and Instagram.