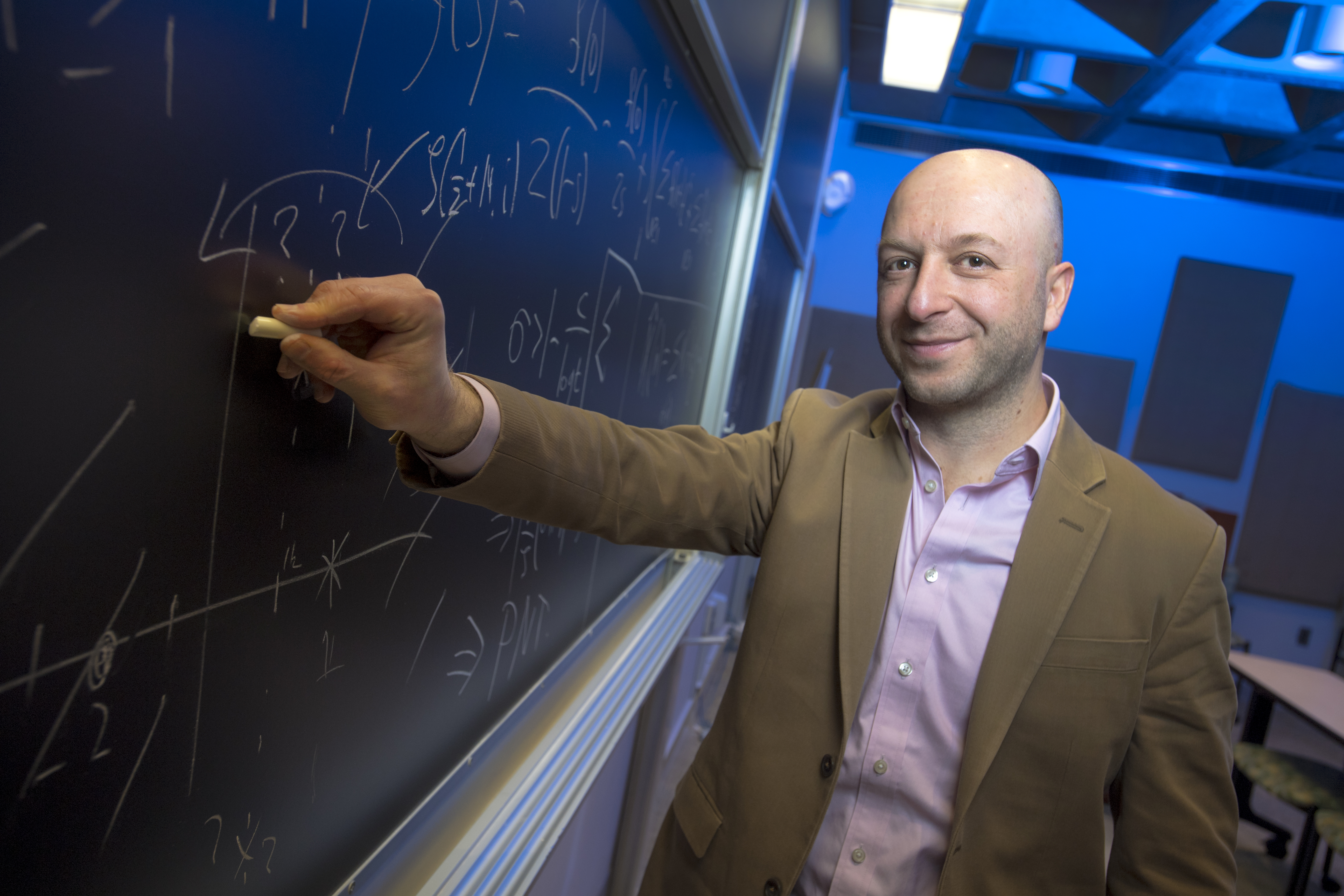 A gifted mathematician develops theories of numbers and melodies
Alex Kontorovich reaches audiences in the worlds of math and music
The work of a research mathematician can look very different from that of a jazz musician.
But a Rutgers University professor who has held both roles with widespread success would disagree.
"I'm thinking of the harmonic innovations that took place from Louis Armstrong to Charlie Parker's bebop," says Alex Kontorovich. "It's a lot like mathematical research, which has grown exponentially in what it can accomplish and in the techniques needed to accomplish it."
Kontorovich is a 41-year-old award-winning professor in the Department of Mathematics at the University School of Arts and Scienceswhere his research focuses in part on the analysis of geometric spaces to develop theories on integers.
He is also a saxophonist and clarinetist steeped in klezmer, the musical genre that took root in Ashkenazi Jewish communities in Eastern Europe. He has toured with the Grammy-winning Klezmatics, co-founded the Klez Dispensers, and performed at venues ranging from the Montreal International Jazz Festival to Lincoln Center in Manhattan to the Festival of Jewish Culture in Krakow. .
Whether developing new number theories or bringing new jazz-inspired approaches to klezmer, Kontorovich is known for working at the experimental cutting edge of his fields.
His 2007 solo album "Deep Minor" was hailed by critics as an inventive and groundbreaking update of "radical Jewish culture" for the 21st century.
In mathematics, meanwhile, Kontorovich won the 2014 Levi Conant Prize with a paper that the judges praised for introducing a new area of ​​number theory capable of shedding light on old problems.
Kontorovich, a genius and outgoing academic who strives to reach mainstream audiences, says both fields require some risk-taking to make inroads.
"I'm someone who's willing to accept failure when it comes, and that's what I tell my students on the first day of class," Kontorovich said. "Out of 300 ideas, one will turn out to be good. But you need the other 299 to know what works.
Born in the former Soviet Union, he moved with his family to the United States when he was 8 years old.
And having a mathematician mother meant he was into math forever, he says. "A long car ride meant my mom was going to give me and my siblings a bunch of math problems to solve. There was no iPhone.
He received his bachelor's degree from Princeton University and his doctorate from Columbia University. Fascinated by analytic number theory, he was drawn to Rutgers by the size and depth of the math department, which includes renowned prime number theorist Henryk Iwaniec.
His college years were also a time of intense musical growth, and he often worked on equations during sound checks and bus rides to concerts. A saxophonist since eighth grade, he's been a lifelong devotee of the free jazz pioneered by Ornette Coleman and John Coltrane of the 1960s. At Princeton, he was introduced to klezmer, which appealed to his eclectic musical tastes and Jewish roots. Russians.
Kontorovich soon met and learned from an older generation of traditional klezmer musicians who had emigrated to America in the early 20th century. At the same time, he was part of a quintessentially American klezmer movement that added jazz, funk, and Latin influences.
"What drew me to klezmer was that it has it all," Kontorovich says. "There is a huge range of music, from simple melodies and chords that anyone can play to some of the most technically demanding music, as challenging as any bebop tune.
"Klezmer is more than melodies and good mastery of notes. It is the expression of the notes.
Now married with two children, Kontorovich has scaled back his musical endeavors over the past decade to focus on research and family. But he brings to math a commitment to public outreach that he developed as a touring musician.
He spent the 2020-2021 academic year as Visiting Professor Emeritus at the National Museum of Mathematics (MoMath) in Manhattan, where he lectured and created programs like "Math's Greatest Hits" for a general student audience. , parents and the elderly.
"Throughout the year, my goal was just to let people know that math research exists," he says. "The vast majority of people think everything was settled hundreds of years ago."
The public is generally more aware of advances in physics, computing and medicine than mathematics, which Kontorovich says is dismal but understandable.
"Most of what pure mathematicians can and do think, the general public should say, 'Who cares?'" he says. "That's a great first question. And the answer is that every company that has invested in this kind of "thinking for thinking's sake" has reaped benefits.
"The fact that we can communicate securely on the internet is the result of stupid, basic questions people asked for no reason 300 years ago."
Returning to Rutgers this year, Kontorovich is busy teaching undergraduate and graduate students and working on extremely daunting research projects.
But he remains attached to the cause of public mathematics. He maintains social media visibility, narrates videos and often engages in press interviews.
In a talk to parents and young people at MoMath several years ago, he spoke in almost spiritual terms about mathematics.
"Plato liked to say that any object that we as humans can experience on this earth is a shadow of an ideal object in the sky," Kontorovich said. "We can't see it; we may just have glimmers of it throughout our life experiences.
"In math, you try to study this idealized version of life."