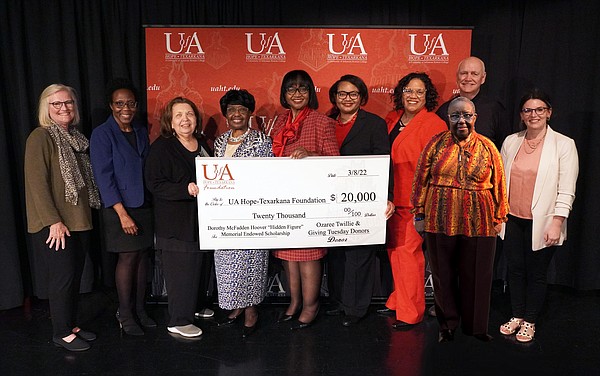 Fellowship commemorates NASA mathematician Dorothy McFadden Hoover from Hope
TEXARKANA, Ark. – The University of Arkansas Hope-Texarkana recently announced the Dorothy McFadden Hoover "Hidden Figure" Memorial Scholarship.
The endowed scholarship was created with $20,000 in donations from Ozaree Twillie, Ellen Turner and Giving Tuesday 2021 campaign donors. Established in 2012, Giving Tuesday is a global giving movement that promotes all acts of giving.
The scholarship provides financial assistance to students pursuing a certificate or degree from the University of Arkansas Hope-Texarkana, with preference given to an African American female with a minimum 2.5 GPA. Scholarships from this endowment will now be awarded annually, according to communications coordinator Casey Curtis.
The cost of tuition at UAHT is $69 per credit hour for Hempstead County residents and $79 per hour for out-of-state residents, plus fees.
"We are grateful to have created this scholarship in memory of Dorothy and to help students follow in her footsteps," Ozaree Twillie, who is Hoover's niece, said in a press release.
The scholarship is named in honor of Hoover to commemorate his life and accomplishments. Hoover was born to William and Elizabeth (Wilburn) McFadden on July 1, 1918 in Hope, Arkansas. She graduated from Yerger High School in 1934 at the age of 15.
In 1943, Hoover earned his first master's degree, a master of science in mathematics, from Atlanta University (now Clark Atlanta University), the first institution in the nation to award graduate degrees to African Americans. . In 1954, as a single mother of two young children, she earned her second master's degree in physics at the University of Arkansas in Fayetteville.
Part of his 1954 master's thesis, "Estimates of Error in Numerical Integration", was included in the Journal of the Arkansas Academy of Sciences the following year. She then entered the doctorate. math program at the University of Michigan, as a lecturer and instructor in "school algebra" and trigonometry.
Ellen Turner said she, Richard Sallee and Janice Russell all went to Hope High School together in the 1960s and learned about Hoover's story. Inspired by the details of Hoover's life, they wanted to know more.
A lifelong science teacher, Turner's goal was to tell Hoover's story as an inspiration to students interested in STEM courses, especially young women of color.
"I can't really tell you why this has fascinated me for so long, but it's just an amazing story," Turner said.
Hoover was one of the first of six African-American women hired as P-1 mathematicians at Langley Labs.
In late 1946, Hoover began working as a senior mathematician for the Stability Analysis Section from 1946 to 1951. By 1951, she had earned the prestigious title of Aeronautical Research Scientist.
Hoover was the first African-American woman to appear on a Langley engineering report; typically only white engineers were listed. The contributions made by Hoover have had practical applications in the development of the aircraft industry in the United States and around the world.
This wing design allowed stable flight at increasingly higher speeds. Today, every cargo or commercial jet aircraft uses the thin, tapered jet wing, which has become the aviation industry standard. It also supports the US Air Force's long-range B-52 bomber, C5 large cargo plane, and AWACS, a converted Boeing 707.
"We are thrilled that Dorothy is beginning to get the recognition she deserves for her professional and academic contributions," Richard Sallee said in a statement from UAHT. "His original work in the early 1950s as co-inventor of the thin, swept, tapered (jet) wing forever changed commercial and cargo aviation. This wing technology enabled the industry aeronautics to become one of the most dynamic industries of the second half of the 20th century. It is still the wing that the aeronautical industry uses today."
Turner said she hopes Hoover's story will reach out and inspire others.
"We've put some amazing people in the world of (Hope, Ark.), and she's definitely one of them," she said. "We hope this gets the word out so people can see how amazing she was."