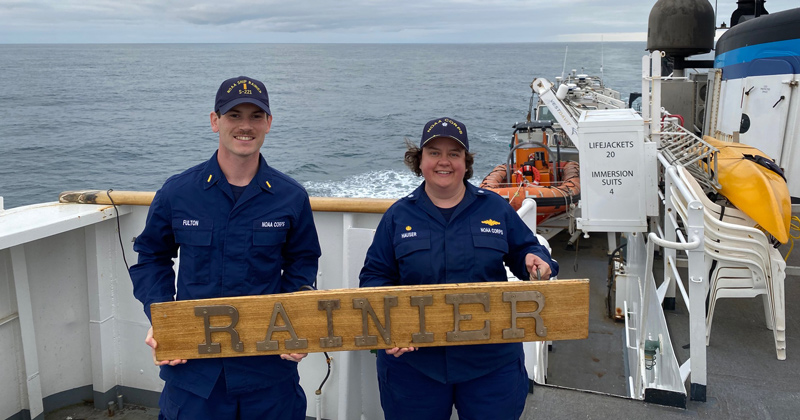 Guidance navigation | UD every day
Two UD alumni Olivia Hauser (right) and Michael Fulton worked during the summer in Alaska on one of the National Oceanic and Atmospheric Administration Commissioned Officer Corps (NOAA Corps) investigative vessels, the Rainier. Hauser serves as the ship's commander and Fulton serves as the junior officer aboard the ship.
Adam Thomas article
Photos courtesy of Bailey Schrader / NOAA
November 12, 2021
UD alumnus and ship captain Olivia Hauser and colleague Blue Hen Michael Fulton serve on a NOAA ship
As one of the eight uniformed services of the United States government, the National Oceanic and Atmospheric Administration Commissioned Officer Corps (NOAA Corps) plays a critical role in supporting maritime navigation by updating navigation charts across the United States.
This is made possible by four hydrographic survey vessels, all of which are equipped with echo sounder technology to measure water depth and identify underwater hazards for navigation. They also each have small boats that are launched for surveying in shallow areas.
One of these investigative ships, the 231-foot Rainier, is home to two University of Delaware alumni, as Olivia Hauser is the ship's captain and Michael Fulton is a junior officer on the ship.
Both graduated from UD, Hauser in 2002 and Fulton in 2018.
Hauser, Fulton and other crew members of the Rainier spent the summer in the waters near Glacier Bay National Park and Kodiak Island, Alaska, collecting data that will support navigation by updating navigation charts.
Hauser was appointed the ship's captain in April 2021 and spent the summer leading a hydrographic survey in various parts of Alaska, including Glacier Bay National Park and Kodiak Island.
Hauser said they are measuring the depth of the ocean floor to ensure ships can navigate the waters safely by updating the navigation charts that NOAA is responsible for creating for all U.S. waters. They accomplish this by making research vessels work with agents ashore who update, develop and publish maps using data collected by vessels like the Rainier.
"We were in Glacier Bay National Park updating the map in some specific areas because the glaciers have retreated, and since the glaciers have retreated, there are new areas that the ships are going to that haven't. been mapped, "Hauser said. "We need to get information on places, such as the marine terminal, to update the map there so that when the tour boats or whoever goes there, they know where it is safe to travel."
The 231 foot Rainier was built in Jacksonville, Florida. The vessel was commissioned on October 2, 1968 and its home port is Newport, Oregon. Rainier is a hydrographic study vessel that maps the ocean to facilitate maritime commerce, improves coastal resilience, and studies the marine environment. The ship operates primarily in the waters off Alaska and other areas of the Pacific Northwest.
After they finished collecting data on Glacier Bay National Park, the Rainiers traveled to Kodiak Island to collect data. On the island there are a lot of fishing communities and people making a living on the water, so keeping the maps as up to date as possible is essential. In addition to supporting maritime navigation, data acquired by hydrographic vessels supports studies of marine ecosystems and mapping of fishing habitats.
Fulton, who received his master's degree in geological sciences from UD, said his role on the ship was to go out on the ship's small boats, collect data and assist with surveys.
Hauser and Fulton are pictured in front of the Rainier.
"It's real data that's put on real charts, used by real people," Fulton said. "I'm learning to ride small boats in some of the most beautiful places in the world – currently in Alaska and next year we'll be working in Hawaii and the South Pacific. I also need to attend NOAA Dive School in the fall and learn the skills for science and vessel maintenance dives. There are constant opportunities to do things that I have wanted to do all my life.
Fulton said his time at UD helped him take academic information he learned in class and apply it to real-world scenarios, which is very similar to his work in the Corps of the NOAA.
"There is so much work that goes on before the ship starts, and even more that needs to be done after the data is collected," Fulton said. "At UD, I was able to appreciate the reason for this process and the importance of good planning. "
Hauser agreed, saying her time at UD helped her think critically and scientifically, which helped her advance in her career. She started in the NOAA Corps in 2004, starting as a junior officer – much like Fulton is now – and gradually worked her way up through the ranks until she was named captain earlier this year.
Like other ships in the NOAA Officer Corps fleet, the Rainier has smaller boats that are deployed in the water for surveying in shallow areas.
As for what she loves most about being a captain and working with the NOAA corps, Hauser said it allows her to blend her intelligence and practical judgment – while not staying not stuck behind a desk.
"It's almost field work in a way, but you have a warm bed and someone is feeding you," Hauser said. "I love the mix of operations and science, and you get to travel to different and beautiful places. I've met some of the most amazing and fantastic people I work with, and that's what kept me going. They are just an amazing, dedicated group of people.
Fulton said working with another Blue Hen at Hauser has been a great experience.
"To have that connection with someone who has been so successful in their career path is really cool and special," said Fulton. "CDR Hauser is really passionate and excited about her work, and I noticed this is something that is common among UD alumni – I also attended our NOAA Corps training with another colleague Blue Hen, Emily Ruhl. This showed that UD really has a very important presence in the world of earth, ocean and environmental sciences.