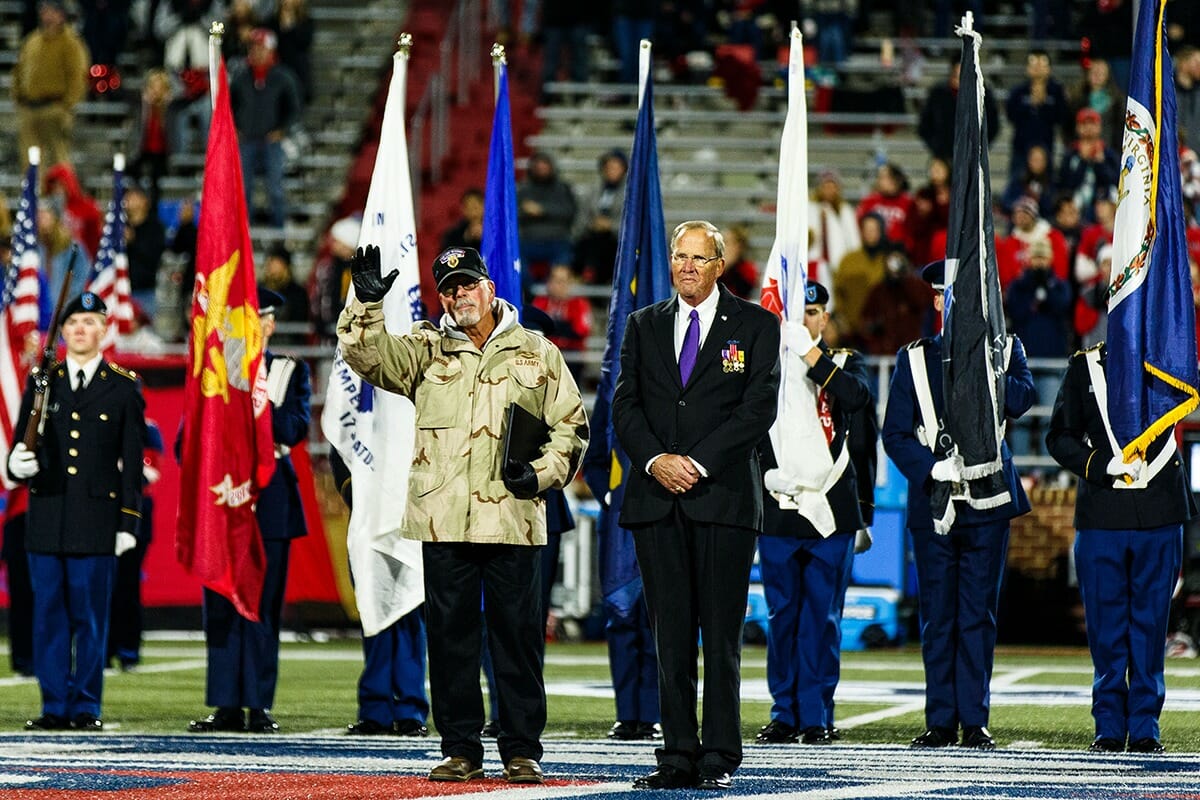 Local veteran, George Rogers Champion of Freedom 2021 award-winning author »Liberty News
At halftime of Saturday's Flames football game against the University of Louisiana, Liberty University recognized the Reverend Brian Moore, retired U.S. Army National Guard Sergeant First Class and veteran of Purple Heart, as this year's recipient of the George Rogers Champion of Freedom Award.
Since 2010, Liberty has presented the award annually to a man or woman who has served in the United States Armed Forces and exceeded the call of duty, demonstrating extraordinary heroism during service and continuing to be an exceptional ambassador in his community. The namesake of the award honors George Rogers, recipient of the Purple Heart Medal and prisoner of war, who was taken prisoner of war by the Japanese during World War II. Rogers survived Bataan's death march and became CEO of Thomas Road Baptist Church's "Old Time Gospel Hour" in 1974 before ending his career at Liberty as vice president of finance and administration. Rogers passed away in 2019.
Saturday's presentation was the culmination of Liberty's Military Appreciation Month festivities, which will conclude with next Saturday's noon soccer game against the Army, which will also be played at Williams Stadium. (Veterans and military personnel can receive free tickets to this competition through the Vet Tix link.)
Moore has served as a squad leader, platoon sergeant, and integrated advisor to the Afghan army. During his three periods of service (two in Iraq and one in Afghanistan), he won two army medals of honor, the combat action badge, the combat infantry badge, the bronze star and the Purple Heart medal for injuries received in combat.
"I was humbled by it," the New Hampshire native said of receiving the award. "I was quite surprised when I got the call, and just to be considered and counted among those men I hold in high esteem is a very humbling honor. I hope to continue to live up to this recognition.
Although teaching history had been his vocation for 25 years, Moore, who enlisted in the US Army National Guard Infantry in New Hampshire in 1983, was called up to active service shortly after the September 11 attacks for service in Iraq in 2003.
During this tour, Moore and his team found themselves in the midst of intense altercations with Al Qaeda insurgents.
"It was a real moment to come to the reality of where it was and where I was," he said. "And pretty quickly I stopped being called Mr. Moore the teacher and started being called Sgt. Moore. "
As a strong man and Christian leader, young men viewed Moore as a spiritual influence during this dark season of life.
"Everyone knew who I was, so the guys came to see me on the way and while we were there worried for their safety," he said.
Through many conversations with his men, Moore was able to share the gospel with those with whom he was abroad, encouraging them to surrender their lives to the Lord.
"I think God used this to keep me grounded a bit," he said. "Because it was easy to get angry with the people we were fighting. "
Moore said during times of gunfire, insurgent soldiers often shot women and children in front of them, a tactic that angered Moore and his men and made it hard not to live in anger.
"You have to find this balance between just indignation, self-defense and the defense of the country," he said.
Like many other veterans, Moore returned after his tour with a lingering feeling that he had more to give. He let his wife and four children answer the call to serve his country abroad two more times, with his last tour coming at a steep cost.
With nearly 50 men under his command and almost all of them under the age of 20, Moore traveled to Iraq in 2008 without realizing what was to become of them.
"When we were deployed to war, we were the youngest group to ever deploy outside of New Hampshire in a war," he said. "They were all out of training camp. At this point, I'm almost 40, and they're all 17, 18, or 19.
One of these young men was a former Moore history student in the early 2000s.
"He used to joke with me before we left that only in America you can wage war with your history teacher," Moore said with a laugh. "They compared me to Tom Hanks in the Saving Private Ryan movie. And it was like that. "
"This is who we are as Americans," he added. "When a call comes in, when there is a threat throughout our time and our history, you put down your plow or the tools of your trade and you take a weapon and go to war to protect your country and your loved ones. "
Moore said he remembers a conversation with the student's father, a discussion he will always remember.
"He was obviously very emotional and he asked me, 'Can you promise to bring my son home?' And I said, 'Well, I promise I won't leave Iraq without him. But I can't promise you that I will bring him back alive.
After landing in Iraq, Moore and his men were stationed in a dangerous area near the enemy base in Sadr City.
"It was an area they controlled," he said. "We were targeted almost daily. During the tour, we blew up two of our Humvee trucks. We lost seven or eight guys to IEDs (improvised explosive devices) at the end of our tour.
One day in April 2008, Moore said he and his comrades were receiving rocket fire just outside their bunker, but only realized after the enemy's missile accuracy was due. to the Iraqi barber in the US military who worked undercover with the enemy. The barber aligned the shots with the location of his unit via cell phone signal.
"He was on top of our building with a cell phone pointing the fire at us," Moore said.
True to his policy of always being the last man to enter the bunker during rocket attacks, Moore was unable to take cover in time before the explosion struck.
"There was an explosion behind me that propelled me forward and I hit part of the concrete bunker," he said. "I dislocated my hip and had a lot of blunt trauma. I had nerve damage, and at the time I couldn't move my legs and I could only move one arm. My ears were bleeding from the concussion, and I was in and out of consciousness.
While still under fire, some of Moore's men transported their leader in a flatbed truck outside the bunker and rushed him to the base hospital.
After being dispatched from the base hospital to two others in the Middle East, Moore returned to the United States, after being informed that some of his injuries were permanent.
Medically released in 2010 with back and hip injuries, Moore and his family moved to central Virginia, away from the colder weather that made his injuries harder to endure and closer to Liberty University, where their eldest son, Brandon worked.
"We went down and loved the area so we moved to Appomattox," Moore said. "Our two youngest children went to Liberty Christian Academy (LCA) and my wife (Raquel) worked at Liberty for several years."
Now, more than a decade after moving to the area, three of Moore's children, Chad, Joshua and Rebekah, have graduated from Liberty and Joshua has joined Brandon as a college employee.
"Stroke was a wonderful experience for my two youngest children, and Liberty University was too," he said. "For my (youngest) son, going through Liberty University and taking religion and worldview classes really helped solidify his Christian worldview."
"We really appreciate the original vision of Jerry Sr.," he added. "We are lucky to have been able to participate.
In addition to maintaining his sheep and goat farm in County Bedford and connecting with local veteran groups such as the Military Order of the Purple Heart, the American Legion, Foreign War Veterans and the Lynchburg Area Veterans Council, Moore is also an ordained minister with the Southern Baptist Convention, a keynote speaker and an interim preacher.
He recently wrote a memoir on his periods of service entitled "Purple Hearts and Wounded Spirits: One Man's Journey through War, Faith, and Forgiveness". His book was published by Liberty University Press and the preface was written by Governor Mike Huckabee. He also hosts a radio show, "One Minute Moore," which can be streamed twice a day on the Central Virginia WLNI (105.9 FM).