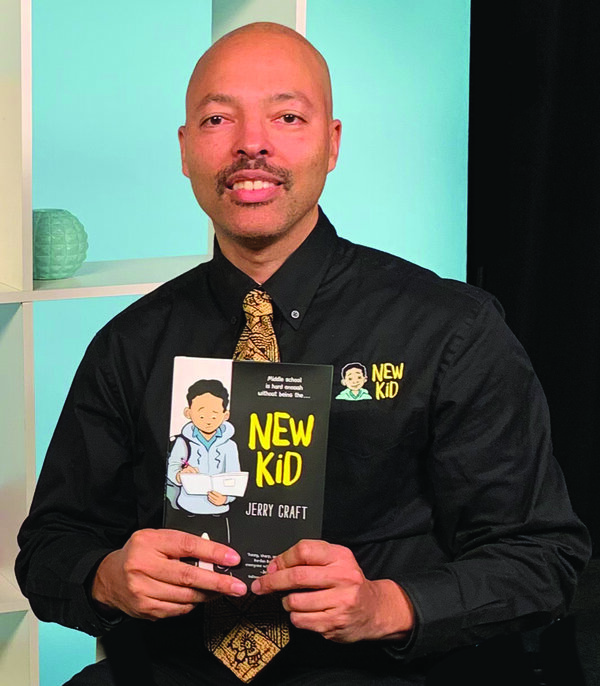 New York Times bestselling author / illustrator Jerry Craft to speak to the Athens community and teacher training students
The Stevens Literacy Center at Patton College and the Athens County Public Libraries are hosting three virtual tours with author / illustrator Jerry Craft.
the New York Times The bestselling author has received the Newbery Medal, Kirkus Prize and Coretta Scott King Prize, among many other awards, and will connect with students on November 19 and the Athens community on November 20.
First, Craft will speak with sixth-graders in the city of Athens school district via Zoom on Friday to discuss her journey from "reluctant reader" to successful author and illustrator. All students will receive a copy of Jerry Craft's first graphic novel new kid, thanks to a gracious donation to the Stevens Literacy Center by Deborah McDavis, former First Lady of Ohio University.
Students, faculty and teacher education staff will also have a dedicated virtual tour on Friday. Craft will discuss the importance of diverse representation in children's literature. Getting Craft to meet both local college students and OHIO students studying to become educators was an important goal early on in the planning process, underscoring the need for educators to have a strong bond. with the life and interests of their students.
The whole community also has the opportunity to attend a Craft talk as part of the Athens County Public Libraries Virtual Event to be held on Saturday, November 20 at 2 p.m. Registration for this free public event can be completed here: https://events.myacpl.org/events/virtual-authorillustrator-visit-jerry-craft.
Readers of all ages are invited to listen to Craft talk about his experiences as a writer and illustrator. A short question-and-answer session will close the event.
Copies of Craft's Graphic Novels new kid and follow-up Class law are available at all branches of the Athens County Public Libraries. In addition, the Stevens Literacy Center will be hosting a Scholastic Book Fair on the second floor of Patton Hall on Thursday, November 18 and Friday, November 19, from 10 am to 6 pm; Saturday, November 20, from 11 a.m. to 5 p.m. and Sunday, November 21, from noon to 3 p.m. with Jerry Craft books and many other children's books for sale.
In light of the ongoing pandemic, these virtual events have been planned to replace the biannual OHIO Literacy Conference. The planning committee is excited to facilitate all three events and hope that the voice and art of Craft will connect with many members of the OHIO and the local community.