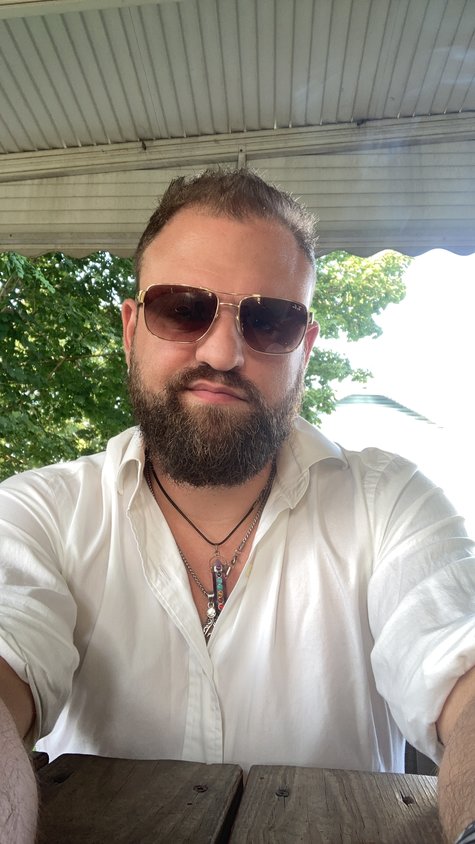 RVC author writes series of seven books | Herald Community Newspapers
By Tom Carrozza [email protected]
Author Micah Dank said he thought he might one day be well-known in the media, but he didn't expect it to be seven books in a series on astrotheology. After growing up in Rockville Center, devoting himself to performing, Dank found meaning in the zodiac and the connections he saw in the Bible, and decided to write about them.
Dank, 38, who lives in Baldwin, has been rapidly churning out new entries as part of his "Into the Rabbit Hole" series over the past two years. Finally, after finishing his seventh entry, "The Unbegun," due out in March, and appearing on over 200 podcasts to talk about his interest in astrotheology, which is the worship of the stars, either individually or together as the night sky, planets and other celestial bodies, Dank had the opportunity to reflect on how he got there.
He graduated from South Side High School in 2001 and first studied acting at the American Academy of Dramatic Arts in Manhattan.
"I was acting major, but I realized when I got there that the acting classes I was taking were nowhere near as good as the ones I had already taken," Dank said. "So I changed my major to English, thinking it would help me read scripts better. if that didn't happen.
Dank was born at South Nassau Hospital, now called Mount Sinai South Nassau. Her family moved to an apartment complex on Maple Avenue in Rockville Center before her first birthday. Dank trained as an actor and his parents worked hard to get him through the academy, where he studied for three years while attending South Side High School.
The academy, which attracts young actors from all over the world, had a very intensive program. Dank enrolled in a summer program at school, where he learned and played five days a week and seven hours a day. Dank attended college at SUNY Albany, but transferred to Hunter College after his parents separated, where he earned an English degree in 2006.
Dank credited his 12th grade English Russell Reed at South Side with pushing him down the path to being a writer and eventual published author.
"A lot of people hate reading growing up until you're old enough to realize you can read whatever interests you," Dank said.
While attending SUNY Albany, Dank made a decision that would solidify him to eventually become an author. A job search followed, which Dank described as difficult as he wasn't immediately attracted to anything. He was accepted into Long Island University's Masters in English Teaching program, but just before he enrolled, the stock market crash of 2008 happened. Instead of taking out loans during this financially perilous time, he found a job with World Courier, a medical logistics company.
In 2012, Dank quit his job at World Courier to move to Boston. He fell down his first "rabbit hole" while busy browsing astrotheology videos on YouTube.
"I came across a video with a guy applying the zodiac to events in the Bible that made a lot of sense to me," Dank recalled. "It was my 'aha moment. I grew up in a very religious household and never got into it, but I got into it and it answered all my questions.
It was then that Dank decided to write a book about his newfound interest.
As a fan of George Orwell during his college years, Dank was inspired to write in fiction. "I realized that if you want to reach a lot of people, you don't write a nonfiction book because it classifies your audience," Dank explained. "You write fiction books and you tell the truth in them."
Dank wrote his first book, titled "Decoding the Phoenix," in 2017. He self-published after failing to find a literary agent and the book "didn't really do well at all," he said. -he declares. Although he is disappointed, a friend of his contacts him and encourages him to continue the series. After writing a second book a year later, it landed her an agent, which earned her a chance to pitch to publishing houses.
Dank couldn't find a publishing house that would pick up the series halfway through, so the author came up with the idea of ​​renaming the story, changing his pseudonym, and deleting his old series from the internet. It worked, and the publishing house Speaking Volumes gave him a three-book deal.
Rejuvenated by the success, Dank wrote the third in the trilogy and in a "blitz of creativity" he produced three more which were also picked up by Speaking Volumes. The first book, "Beneath the Veil", took him two years to write before it was available on
Amazon in June 2020. His writing got super fast, as the soon-to-be-published seventh entry was written in 19 days.
Dank follows Dan Brown's "Da Vinci Code" school, but in a shorter and more episodic adventure. The main character of "Into the Rabbit Hole", Harvard medical student Graham, bears some influence from the protagonist of Brown's famous series, although Dank said he likes his characters to be young and sarcastic. He added that he likes to include cryptograms and anagrams in his series. , as well as.
What was a single book that became a trilogy and now has a seventh book coming out soon, and it may soon have an eighth entry. Dank has also expressed interest in writing a children's book based on astrotheology. He is highly motivated, having received between 250 and 300 rejection letters as an author. Dank said he saved them all.
"It would have been easy for me to give up, but I knew what I had was special," Dank said as advice to budding writers. "So believe what you have is special."