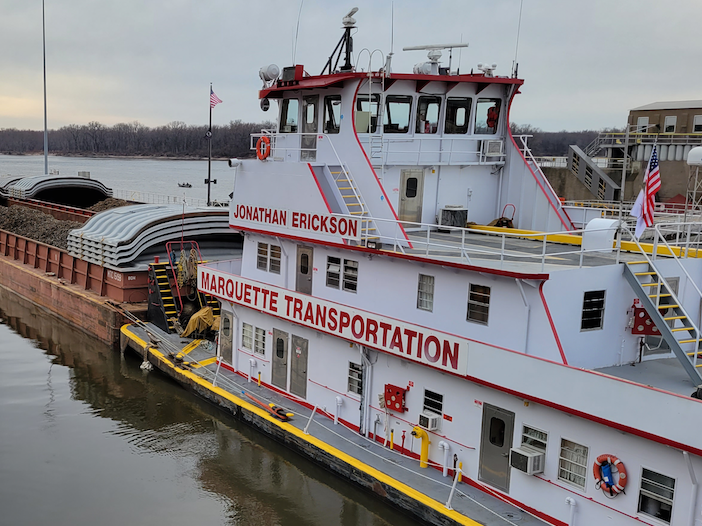 Upper Mississippi boating season comes to an end
The St. Paul Engineering District locked down the last tow from St. Paul, Minnesota on Nov. 23, ending the 2021 navigation season on the Upper Mississippi.
M / V of Marquette Transportation Jonathan ericson, pushing five barges with scrap, soybeans and grain was the last tow leaving St. Paul this year. Traditionally, the last tow from the capital southbound to Lock and Dam 2 near Hastings, Minnesota marked the unofficial end of the sailing season. The 2021 season began on March 19 when the M / V R. Clayton McWhorter arrived at Saint-Paul.
The 2020 season ended yesterday, November 30, when the M / V The colonel left Saint-Paul. Historically, the last tow to leave Saint-Paul is usually around the last week of November or the first week of December.
Winter maintenance projects
As we say goodbye to the 2021 boating season, St. Paul District staff will be busy this winter with scheduled maintenance projects at six of its locks and dams. Repairs are expected to be completed by March 17, 2022.
The Corps closed Lower St. Anthony Falls Lock and Dam and Lock and Dam 1, both in Minneapolis, to shipping on October 14.
The St. Paul District Navigation Program provides a safe, reliable, cost-effective and environmentally sustainable water transportation system on the upper Mississippi River for the movement of commercial goods and for national security purposes. Keeping this system open is vital to the country's economy. Industries using inland navigation system saved around $ 430 million instead of land navigation methods.
Categories:

Interior, News, Shipping